Olá!
Nesses tempos em que muitos dos rios da Terra estão secando...
ou mesmo em que o Rio Doce foi morto
- exatamente há um ano! -
pela lama da ganância e do desrespeito do Poder
e tornou-se um rio literalmente amargo....,
um Rio de Estrelas, Rio do Céu Estrelado, Eridanus,
permanece apresentando-se aos nossos olhos embevecidos
e voltados para buscar seus caminhos
fazendo curvas através a abóbada celeste mais ao sul
e sempre em lugares de céus escuros e transparentes
e em noites de ausência de Lua.
Mesmo que Eridanus seja uma constelação de estrelas bem tímidas
- com a boa exceção de Achernar, a estrela-alpha Eridanii -,
é certo que podemos encontrar o Rio dos Céus Estrelados
começando a partir de um dos pés do Gigante Orion,
marcado pela presença da belíssima estrela Rigel,
e vai ziguezagueando correndo entre constelações também marítimas
- como Cetus, a Baleia, o monstro-marinho
e Argo Navis, o Navio, desmembrado em Quilha, Vela e Popa -,
e concluindo-se em sua Foz, a estrela Achernar,
bem mais ao sul, já apontando para a vizinhança riquíssima
protagonizada pelas Nuvens Pequena e Grande de Magalhães!
Eridanus, o Rio dos Céus Estrelados,
é realmente uma constelação de estrelas tímidas
e de desenho nem sempre muito fácil de ser delineado
- com exceções, é claro, para sua nascente, Cursa,
e para sua belíssima foz, Achernar!
No entanto, sempre em lugares de céus escuros e transparentes
e em noites sem Lua,
as curvas desse Rio de Estrelas
vão mostrando os caminhos celestes
por onde vão passando suas águas estelares
e desenhadas por estrelas tímidas
- sendo que uma delas, Epsilon Eridani parece acolher
um ainda não-confirmado exoplaneta..
que, mesmo não sendo confirmado
faz a festa em livros e filmes de ficcção científica
O interessante a bem percebermos, Caro Leitor,
é que esta constelação aparentemente escondida dos olhares
dos amantes das estrelas que moram em centros urbanos e iluminados,
apresenta-se nos revelando tesouros inimagináveis!
São Galáxias maravilhosas fazendo parte
de Aglomerados que se confundem entre
as constelações de Eridanus e Fornax
(esta última inserida em uma das tantas curvas do Rio dos Céus Estrelados).
Existe um agrupamento em seus primeiros estágios de formação
entre o Aglomerado Fornax e o Grupo Eridanus
(o primeiro bem mais próximo a nós,
enquanto o segundo é bem mais distante e espraiado)
e ainda acolhendo o Grupo Dorado e outros,
constituindo o chamado Eridanus-Fornax-Dorado-Filamento
ou Superaglomerado Fornax ou ainda Superaglomerado do Sul.
acontecem as denominações Fornax Supercluster e Fornax Void;
porém a verdade é que na direção
onde as constelações Eridanus e Fornax se encontram,
Aglomerados e Vazio acontecem.
Para ainda além, muito além,
Vamos encontrar um Void, um Vazio,
Considerado como um Imenso Vazio,
o Grande Vazio, The Great Void,
talvez uma das maiores estruturas do universo visível
– porém ainda não efetivamente confirmado.
Bom sabermos que o Rio dos Céus Estrelados, Eridanus,
permanece incólume em suas águas estelares....
...... Pelo menos nos céus, podemos confiar
que a ganância dos podres poderes não consegue alcançar.
Janine Milward
Mario Jaci Monteiro - Cartas Celestes, as 88 Constelações
Mario Jaci Monteiro - As Constelações, Cartas Celestes
- excerto apresentando ALFABETO GREGO, CONVENÇÕES E USO DA CARTA CELESTE
Title: Orion and Haase (Lepus the Rabbit)
Ascensão Reta 1h22m / 5h9m Declinação +0o.1 / -58o.1
Esta constelação representa o Rio Padus ou onde Phaeton caiu quando degolado por Júpiter por causa de ter botado fogo no mundo ao mal-guiar o carro de seu pai, Phoebus.
Erídano é supostamente uma representação de equivalência celestial de um rio; é o Nilo para os Egípcios, e o Eufrates para os Babilônios.
você encontrará

Informações bem interessantes

sobre o significado da nomeação Eridanus, suas principais Estrelas e excertos do texto de Richard H. Allen contando a História desta Constelação.
Eridanus faz fronteira com Horologium, Caelum, Lepus, Orion, Taurus, Cetus, Fornax, Pheonix e Hydra
e Alguns Objetos Interessantes,
Meus Comentários sobre Achernar
QUANDO ACHERNAR APONTA NO HORIZONTE SUDESTE
, e
u gosto de estar jantando (ou tomando meu desjejum!) - e minha sala-de-refeições é como uma varanda aberta para o Sítio das Estrelas e para o céu estrelado.
Uma estrela pisca me chamando: é Achernar! Ei-la que surge majestosa, iluminando os céus bem ao sul, apontando para o Rio Eridano, sinuosamente enredilhando-se pelas terras desde os pés do Gigante Caçador até desaguar suas águas através esta maravilha que vem anunciando a chegada do mar!
É realmente muito agradável termos uma bela visão dos céus bem mais ao sul - apesar de que, confesso, a multidão de pequenas constelações ainda me confunde, ainda não sei bem delinear muitas delas, deixo-me envolver por um certo tom de caos..., talvez parecido com o inicial caos que teria advindo aos observadores dos céus, há alguns poucos séculos, quando aproveitaram as caravelas arrojadas e desbravadoras de novos mares nunca dantes navegados (e também os navios a vapor) para conhecerem as estrelas buscando o sul...
Penso que o sul traz um tom de fantasia, de imaginação solta, de paraíso na Terra, algo assim - e também de desejo e de concretização de ideais e de situações agradáveis, confortantes ao coração. Quer dizer, as constelações bem mais ao sul que foram sendo figuradas, delineadas e nomeadas, expressam, de alguma forma, estas questões.
Uma questão bastante fundamental é o fato de que para bem podermos conhecer os céus estrelados mais ao sul, é preciso que estejamos em lugares de céus escuros e transparentes e, preferencialmente, em noites sem-Lua.
(De uma maneira geral, as pessoas se mostram surpresas quando eu digo que o melhor momento para o observador de estrelas acontece quando Selene está ausente - nem que seja por algumas horas, em tempos de Lua de Nova a Crescente ou de Lua Minguante a Nova!).
No caso do Rio Eridanus, eu somente consigo delineá-lo nos céus estrelados quando a noite é escura, bem escura - pois que as estrelas que compõem a sinuosidade maravilhosa apresentada por esta constelação são luzes não muito iluminadas - com a fantástica exceção da estrela-alpha Eridanii, Achernar!
Ascensão Reta 01h37,0 - Declinação -57o 20
Magnitude visual 0,60 - Distância 118 anos-luz
Uma estrela branca situada na boca do Rio. De Al Ahir al Nahr, o Fim do Rio. A Foz do Rio Erídano.
Esta é uma estrela tão ao sul que não faz parte da visão dos habitantes em latitudes bem ao norte.
Magnitude visual 2.8 Distância 80 anos-luz,
Cadeira, vocábulo oriundo da expressão árabew Al Kursiyy Al Jauzah.
Esta estrela é o começo do Rio Erídano
e encontra-se aos pés do Gigante Órion e sua estrela beta Rigel.
Acamar - Teta Eridani - Estrela Dupla
Ascensão Reta 02h57,5 - Declinação - 40o 23
Magnitude visual 3,42 e 4,5 - Distância 65 anos-luz
Distância entre estrelas 8",15
O Branco, nome de origem árabe que foi utilizado pela primeira vez nas Tabuas Alfonsinas.
Esta estrela já representou a Foz do Rio antes de a constelação ser estendida
até alcançar a verdadeira Foz, Achernar.
É um sistema triplo sendo que o membro mais brilhante é visível a olho nu
sendo que suas duas companheiras são muito pálidas,
uma das quais é uma anã vermelha e a outra, uma anã branca.
O Rio, nome de origem árabe.
O Meandro do Rio, proveniente da expressão árabe Al Hinayat al Nahr.
Beid ou Keid - Omicron Eridani
Ovo, do árabe Al Bais, o ovo do ninho de avestruz. Nome árabe proveniente da expressão Al Kaid.
Theermin - Epsilon Eridani
Os Gêmeos, nome oriundo do árabe Al Tauaman.
Barco, oriundo do árabe Al Nair Al Zaurak, ou seja, a brilhante estrela do barco.
6a. Edição do Atlas Celeste
de autoria de Ronaldo Rogério de Freitas Mourão,
Editora Vozes, Petrópolis, ano de 1986
Epsilon Eridani
é uma estrela da sequência principal do K2 classe espectral. Apenas 10,5
anos-luz
de distância, é a estrela mais próxima da
constelação Eridanus
, bem como o terceiro
sistema estelar
mais próximo visível a olho nu. Sua idade é estimada em menos de um bilhão de anos. Devido à sua relativa juventude, Epsilon Eridani tem um maior nível de
atividade magnética
do que o
Sol
, com um
vento estelar
30 vezes mais forte. Seu período de rotação é relativamente rápida 11,2 dias, embora isso varie de acordo com a latitude. Epsilon Eridani é menor e menos maciça que o Sol, com um menor enriquecimento de elementos além de
hidrogênio
e
hélio
.
https://pt.wikipedia.org/wiki/Epsilon_Eridani
Epsilon Eridani b
, com freqüência catalogada como HD 22049 b, é um
planeta extrasolar
descoberto em
7 de agosto
de
2000
. Dista aproximadamente a 10
anos luz
do planeta Terra, na constelação de
Eridanus
. Orbita a estrela Epsilon Eridani, convertendo-o no sistema planetario conhecido mais próximo ao Sistema Solar.
The motion of Epsilon Eridani along the line of sight to Earth, known as the
radial velocity
, has been regularly observed for more than twenty years. Periodic changes in this data
yielded evidence
of a
giant planet
orbiting Epsilon Eridani, making it one of the nearest extrasolar systems with a candidate
exoplanet
.
[19]
This object,
Epsilon Eridani b
, was formally announced in 2000 by a team of astronomers led by
Artie Hatzes
.
[19]
Current data indicate that this planet orbits with a period of about 7 years at a mean separation of 3.4
astronomical units
(AU), where 1 AU is the mean distance between Earth and the Sun.
[20]
Although this discovery has been controversial because of the amount of background noise in the radial velocity data,
[21]
many astronomers now regard the planet as confirmed.
The system includes two belts of rocky
asteroids
: one at about 3 AU and a second at about 20 AU, whose structure may be maintained by a hypothetical second planet, Epsilon Eridani c.
[22]
Epsilon Eridani harbors an extensive outer
debris disk
of remnant
planetesimals
left over from the system's formation.
[23]
Epsilon Eridani's designation was established in 1603 by
Johann Bayer
. It may be a member of the
Ursa Major Moving Group
of stars that share a similar motion through the
Milky Way
, implying these stars shared a common origin in an
open cluster
. Its nearest neighbor, the binary star system
Luyten 726-8
, will have a close encounter with Epsilon Eridani in approximately 31,500 years when they will be separated by about 0.93 ly.
[24]
As one of the nearest
Sun-like stars
with the potential for a planet that may harbor life,
[25]
Epsilon Eridani has been the target of
SETI
searches. Epsilon Eridani appears in
science fiction
stories and has been suggested as a destination for
interstellar travel
.
[26]
From Epsilon Eridani, the Sun would appear as a 2.4-magnitude star in
Serpens
.
[note 1]
The planet and its host star is one of the planetary systems selected by the
International Astronomical Union
as part of their public process for giving proper names to exoplanets and their host star (where no proper name already exists).
[1]
[2]
The process involves public nomination and voting for the new names, and the IAU plans to announce the new names in mid-November 2015.
[3]
Hubble Observations Confirm that Planets Form from Disks Around Stars
This is an artist's concept of a Jupiter-mass planet orbiting the nearby star Epsilon Eridani. Located 10.5 light-years away, it is the closest known exoplanet to our solar system. The planet is in an elliptical orbit that carries it as close to the star as Earth is from the Sun, and as far from the star as Jupiter is from the Sun.
Epsilon Eridandi is a young star, only 800 million years old. It is still surrounded by a disk of dust that extends 20 billion miles from the star. The disk appears as a linear sheet of reflecting dust in this view because it is seen edge-on from the planet's orbit, which is in the same plane as the dust disk.
Epsilon Eridani: Double the Rubble
This artist's conception shows the closest known planetary system to our own, called Epsilon Eridani. Observations from NASA's Spitzer Space Telescope show that the system hosts two asteroid belts, in addition to previously identified candidate planets and an outer comet ring.
Epsilon Eridani is located about 10 light-years away in the constellation Eridanus. It is visible in the night skies with the naked eye.
Young Solar System in the Making
This artist's diagram compares the Epsilon Eridani system to our own solar system. The two systems are structured similarly, and both host asteroids (brown), comets (blue) and planets (white dots).
Epsilon Eridani is our closest known planetary system, located about 10 light-years away in the constellation Eridanus. Its central star is a younger, fainter version of our sun, and is about 800 million years old—about the same age of our solar system when life first took root on Earth.
Observations from NASA's Spitzer Space Telescope show that the system hosts two asteroid belts, in addition to previously identified candidate planets and an outer comet ring.
VEJA QUE A PEQUENA CONSTELAÇÃO FORNAX, A FORNALHA,
ACONTECE INSERIDA EM UMA DAS TANTAS CURVAS DO RIO ERIDANUS
e veja que Achernar, estrela-alpha Eridanii, situa-se bem próxima ao Peixe DORADO.
Estas duas constelações vêm sendo sempre muito comentadas porquanto acolhem Aglomerados e Void, Vazio.
Na maioria das vezes, acontece a denominação Fornax Supercluster e Fornax Void porém a verdade é que na direção onde as constelações Eridanus e Fornax se encontram, Aglomerados e Vazio acontecem.
| | |
| --- | --- |
| Author | IPAC/Caltech, by Thomas Jarrett |
Panoramic view of the entire near-infrared sky reveals the distribution of galaxies beyond the
Milky Way
. The image is derived from the
2MASS Extended Source Catalog (XSC)
—more than 1.5 million galaxies, and the Point Source Catalog (PSC)--nearly 0.5 billion Milky Way stars


The Universe within 200 million Light Years
The Fornax and Eridanus Clusters
The Fornax and Eridanus clusters are two very famous clusters in the southern hemisphere. Although they look near to each other, they are separated by about 20 million light years. The nearer Fornax cluster is about 65 million light years from us, and the Eridanus cluster is about 85 million light years from us. There are many other groups of galaxies scattered around these two clusters and collectively these groups are often called the Fornax Supercluster or Southern Supercluster.y famous clusters in the southern hemisphere. Although they look near to each other, they are separated by about 20 million light years. The nearer Fornax cluster is abo
ut 65 million light years from us, and the Eridanus cluster is about 85 million light years from us.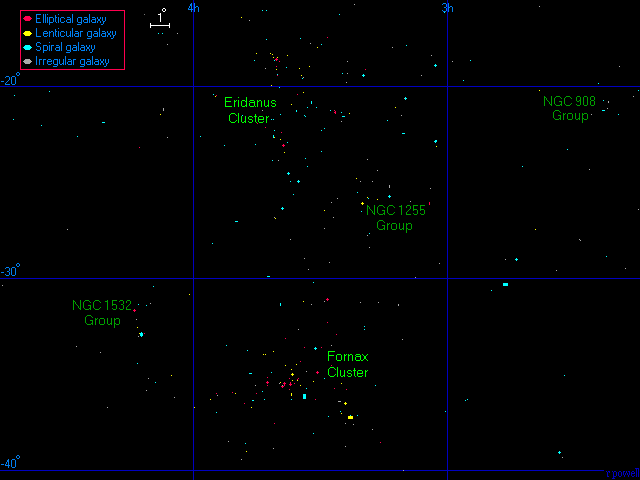 The Eridanus Cluster
This is a map of the Eridanus Cluster. This cluster is less spectacular than the Fornax cluster, partly because the galaxies are spread across a larger area and partly because the cluster is rather further and hence dimmer than the Fornax cluster. The Eridanus cluster is roughly split into two halves: a northern subgroup around NGC 1407 and a southern subgroup around NGC 1395.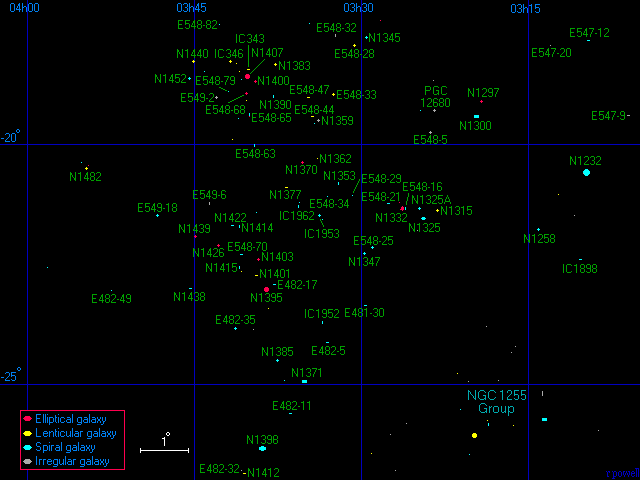 Properties of the Eridanus Cluster

Equatorial Coordinates

RA=03h35m Dec=-22°

Galactic Coordinates

l=214° b=-53°

Supergalactic Coordinates

L=281° B=-43°

Distance to the centre of the cluster

85 million light years

Number of large galaxies in the cluster

73

Alternative names for the cluster

Fornax II cluster
The center of the
Eridanus Cluster
is roughly 23
Mpc
(75
Mly
) from
Earth
, and contains about 73 main
galaxies
and about 200 total galaxies. About 30% have
Hubble classifications
of elliptical or S0 and the remaining 70% are spiral or irregular.
[2]
These galaxies reside in smaller groups which are all loosely gravitationally bound to each other, suggesting that the system is still condensing from the
Hubble flow
and may eventually form a cluster of about 10
14
M
☉
. A low velocity dispersion compared to that of, for example, the Coma cluster, supports this hypothesis.
[3]
The Eridanus Cluster is located in the
constellation
Eridanus
near the
Fornax Cluster
, and is sometimes called the "Fornax II Cluster".
[4]
Column 5:
Galaxy type
: E=Elliptical; S0=Lenticular; Sa, Sb, Sc, Sd=Spiral; SBa, SBb, SBc, SBd=Barred Spiral; Sm, SBm, Irr=Irregular
Column 6: Angular diameter of the galaxy (
arcminutes
)
Column 7: Diameter of the galaxy (thousands of light years)
http://www.whillyard.com.
The Fornax Cluster
is a small cluster of about 58 galaxies, much smaller than the Virgo Cluster, for example, located around 20 Mpc away. It contains two massive galaxies - NGC 1316, a lenticular, and NGC 1365, a barred spiral. Both are more than twice the diameter of the Milky Way. There is substantial evidence that one, or maybe two, sub-groups of galaxies have collided with the main group in the astronomically recent past.
Associated with the Fornax Cluster, the Eridanus Group
lies about 7 Mpc further away. It contains around 200 galaxies, is approximately 10 Mpc across, and about 23 Mpc away.
This grouping is in the early stages of formation, and with the Fornax cluster, the Dorado group and others, forms the Eridanus-Fornax-Dorado Filament.
It is very interesting because although many of its constituent galaxies are quite old, the group itself is rather young and still forming. It also has a large number of lenticular (type S0) galaxies. These are believed to be part of the evolution of spiral galaxies again implying great age for many of the galaxies.
A 12th-magnitude spiral galaxy (type SAB(rs)b) in Eridanus (RA 03 41 57.2, Dec -04 42 19)
Apparent size 2.3 by 1.2 arcmin.
Above, a 2.4 arcmin wide closeup of NGC 1417
Below, a 12 arcmin wide region centered on the galaxy, also showing NGC 1418
NGC 1232: Dwarf Galaxy Caught Ramming Into a Large Spiral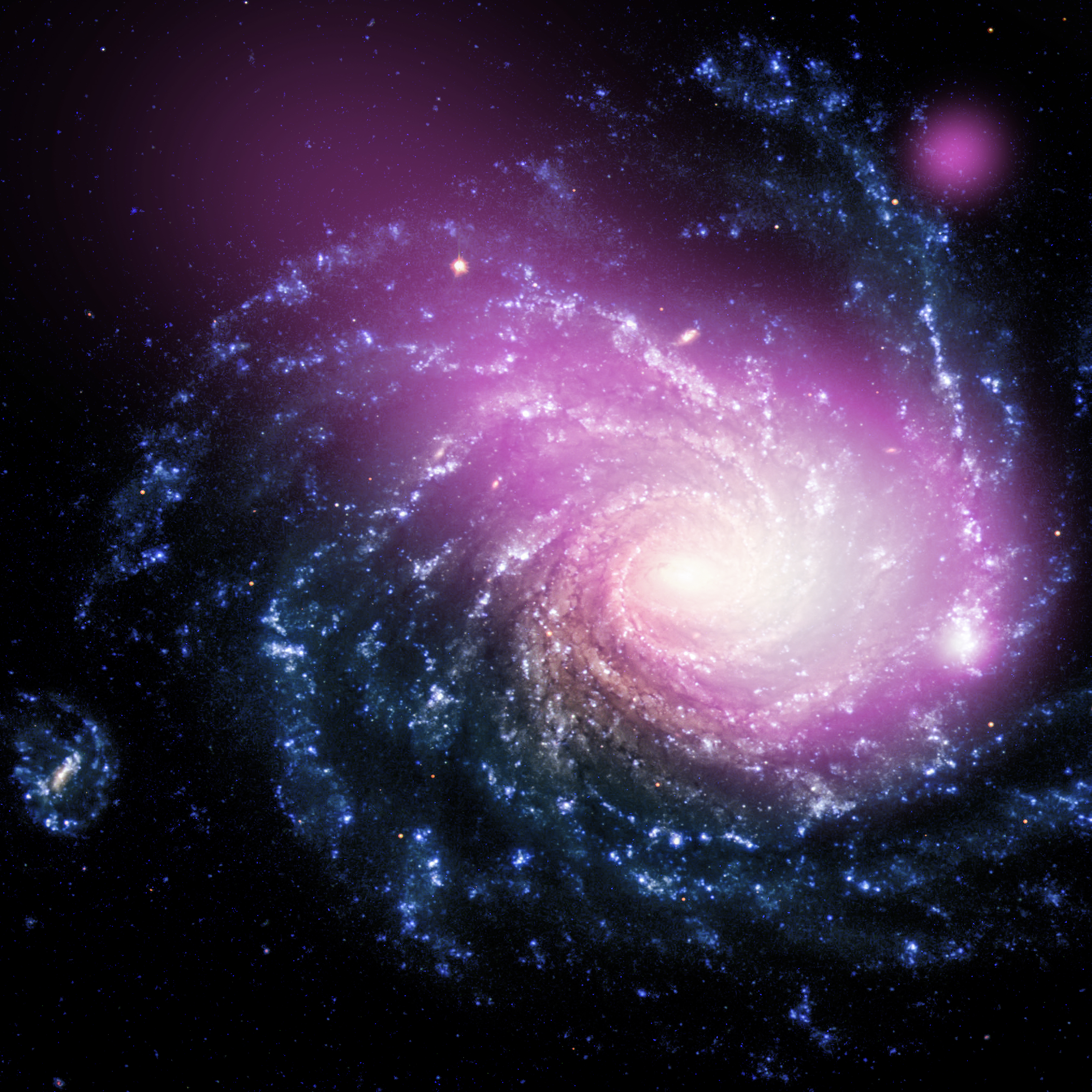 X-ray: NASA/CXC/Huntingdon Inst. for X-ray Astronomy/G.Garmire, Optical: ESO/VLT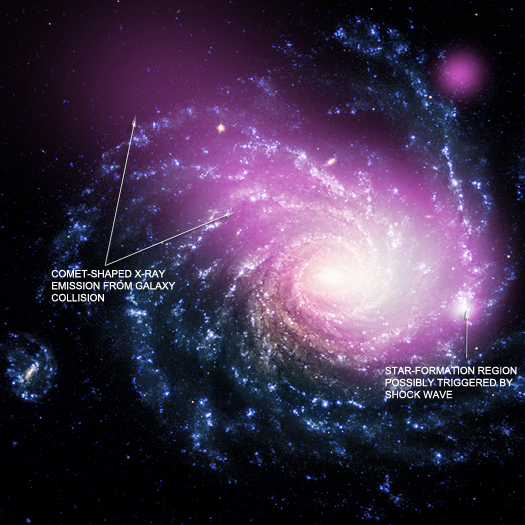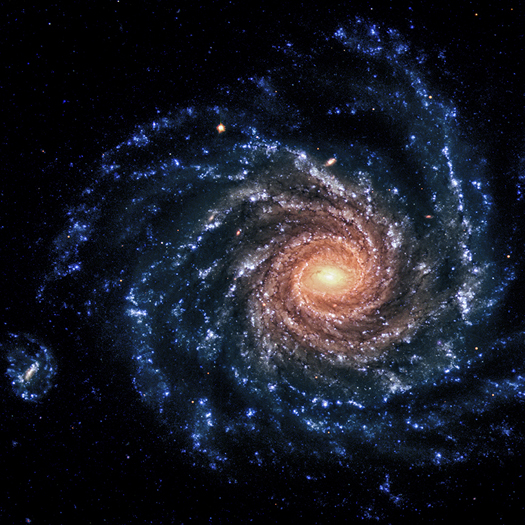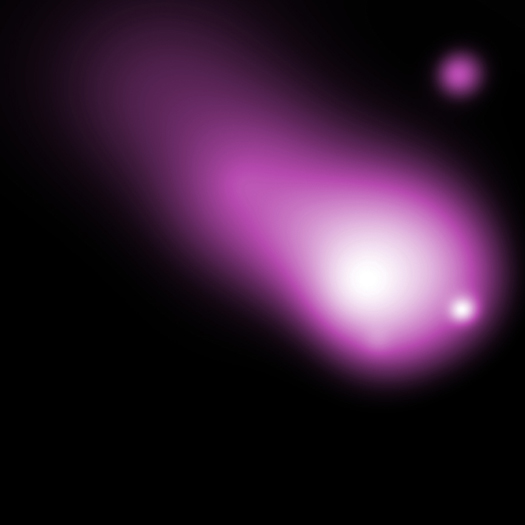 Observations with Chandra have revealed a giant cloud of superheated gas in a galaxy about 60 million light years from Earth.

Because this gas is about 6 million degrees, it only glows in X-ray light.

A collision between a dwarf galaxy and a much larger galaxy called NGC 1232 is the likely cause of this gas cloud.

A new composite of X-rays (purple) from Chandra and optical data (blue and white) shows the scene of the collision.
Observations with NASA's Chandra X-ray Observatory have revealed a massive cloud of multimillion-degree gas in a galaxy about 60 million light years from Earth. The hot gas cloud is likely caused by a collision between a dwarf galaxy and a much larger galaxy called NGC 1232. If confirmed, this discovery would mark the first time such a collision has been detected only in
X-rays
, and could have implications for understanding how galaxies grow through similar collisions.
A Blue Whirlpool in The River
A new image taken with ESO's Very Large Telescope shows the galaxy NGC 1187. This impressive spiral lies about 60 million light-years away in the constellation of Eridanus (The River). NGC 1187 has hosted two supernova explosions during the last thirty years, the latest one in 2007. This picture of the galaxy is the most detailed ever taken.
Videos
Zooming in on the spiral galaxy NGC 1187
Panning across a new VLT image of the spiral galaxy NGC 1187
This chart shows the location of NGC 1187 in the constellation of Eridanus (The River). This map shows most of the stars visible to the unaided eye under good conditions, and NGC 1187 itself is highlighted with a red circle on the image. This galaxy appears as a faint smudge through medium-sized amateur telescopes under good conditions.
ESO, IAU and Sky & Telescope
Title: Orion and Haase (Lepus the Rabbit)
IC 2118 (also known as Witch Head Nebula due to its shape), is an extremely faint reflection nebula believed to be an ancient supernova remnant or gas cloud illuminated by nearby supergiant star Rigel in Orion. It lies in the Eridanusconstellation, about 900 light-years from Earth. The nature of the dust particles, reflecting blue light better than red, is a factor in giving the Witch Head its blue color. Radio observations show substantial carbon monoxide emission throughout parts of IC 2118 an indicator of the presence of molecular clouds and star formation in the nebula. In fact candidates for pre-main sequence stars and some classic T-Tauri stars have been found deep within the nebula.[1]
The molecular clouds of IC 2118 are probably juxtaposed to the outer boundaries of the vast Orion-Eridanus bubble, a giant supershell of molecular hydrogen blown by the high mass stars of the Orion OB1 association. As the supershell expands into the interstellar medium, favorable circumstances for star formation occur. IC 2118 is located in one such area.The wind blown appearance and cometary shape of the bright reflection nebula is highly suggestive of a strong association with the high mass luminous stars of Orion OB1. The fact that the heads of the cometary clouds of IC2118 point northeast towards the association is strong support of that relationship.
Baby Stars Brewing in the Witch Head Nebula

Eight hundred light-years away in the Orion constellation, a gigantic murky cloud called the "Witch Head Nebula" is teeming with dust-obscured newborn stars waiting to be uncovered. In this image, the super sensitive infrared eyes of NASA's Spitzer Space Telescope reveal 12 new baby stars in a small portion of the cloud commonly referred to as the Witch Head's "pointy chin."
NGC 1132: A Mysterious Elliptical Galaxy
| | |
| --- | --- |
| Credit | X-ray: NASA/CXC/Penn State/G. Garmire; Optical: NASA/ESA/STScI/M. West |
Hubble Snaps Images of a Pinwheel-Shaped Galaxy
Lick Observatory Ground-Based Image of SN2002fk in NGC 1309
Hubble Interacting Galaxy NGC 1614
Ballet of Interacting Galaxies